Razer Seiren X review
Alongside the Razer Kiyo webcam already presented on GamerTech, the famous brand of gaming peripherals unveiled a new version of its microphone intended for streamers . Following on from the imposing Seiren model presented in 2015, the new Razer Seiren X is intended to be more compact, but also easier to use.
New to streaming? We explain step by step how to stream on Twitch !
With plug-and-play operation and a USB connection, it is intended for players looking for a simple and efficient way to comment on their games live. Available around € 110 , it promises quality capture thanks to its 25mm capsule offering super-cardioid directivity.
What to overshadow certain references in the sector, like the Blue Yeti ( around 120 € ) or even the Audio-Technica AT2020USB + ( around 145 € )? Answer after ten days at his side.
Design & Ergonomics
Once the Seiren X is assembled, the first thing that jumps out at you is obviously its particularly compact size. Faced with a Blue Yeti, the latest from Razer is clearly more discreet, and players wishing to keep a minimalist setup should clearly appreciate.
A good point, especially if you want to position it in front of your keyboard, or directly on an arm without hiding part of your monitor.
See Also : Logitech BRIO  Ultra HD Webcam Review 
With a diameter of 4.5cm and a height of 19cm, the Seiren X is also almost twice as compact as the first version of Razer's microphone. An asset for players who are used to streaming on the go, from a gaming laptop for example.
Style of Razer Seiren
In terms of style, the manufacturer retains the lines of the first version, with a relatively sober and elegant look. All in black, the microphone combines perfectly with other peripherals of the brand and has excellent finishes despite a predominantly plastic construction.
The chassis appears robust, and the protective grid should be able to effectively protect the capsule in the event of a fall.
Detail of Razer Seiren X
A little more in detail, the Razer Seiren X presents two buttons when positioned in front of you. The first allows you to adjust the sound volume of your headphones when you plug one into the microphone. While the second allows you to activate or stop audio capture. when the microphone A green LED also indicates is activated.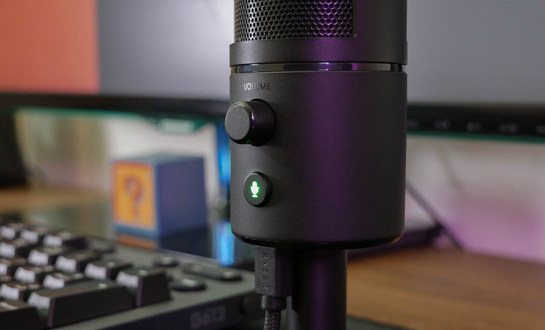 Under the microphone, there is a 3.5 mm connector to plug in your headphones (practical when you want to monitor ), as well as a micro-USB connector to power everything. The connection is then made by USB, via a braided cable approximately 1.5 m long.
Something Missing
No other button is involved, and we can already regret the absence of controls allowing to manage the gain on the fly, or to adjust the directivity of the capture. While streamers are usually content with a cardioid mode, the lack of these features will make the Seiren X less versatile than a Blue Yeti.
Let's finish with the base of the microphone, equipped with a non-slip coating but also a small ball joint offering a few degrees of freedom to more or less tilt the Razer Seiren X.
Performances
As explained above, the Seiren X incorporates a 25 mm capsule with supercardioid capture. Clearly, the microphone here favors sources only positioned in front of it. This is obviously what we are looking for when we want to chat with other players or comment on its broadcast on Twitch or YouTube .
The idea is therefore to capture only your voice, bypassing the sounds coming from the back or sides of the microphone. This way, your audience doesn't have to endure the noise of your PC fans, and the capture of keystrokes on your mechanical keyboard should be reduced.
Before coming to the performance itself, we will understand that the position of the Razer Seiren X will play a crucial role in its quality of capture. If the microphone is not perfectly positioned in front of you, its very reduced directivity will inevitably limit the quality of capture.
In use, the capture quality is clearly there. Positioned about thirty cm from the mouth, the Seiren X offers excellent recording quality, while limiting the capture of ambient noise
Software And Manual Guide
Software Support > Download
Conclusion
Overall, this little Razer Seiren X is a nice surprise. The microphone provides excellent capture and allows you to record clear, detailed voice for your videos or live broadcasts .
Compact and easy to use, it is obviously intended for players who do not want to bother with XLR connectors which are often more expensive and complicated to set up. The question of price obviously remains, because with a price of around 110 € , the Seiren X is still expensive.
This is particularly the case when we compare it to the Blue Yeti , regularly available at a similar price, and which in turn offers more complete features (gain management, capture mode, etc.).