Logitech K750 Keyboard Impresion
Awireless keyboard that recharges using ambient light, this is the originality of the K750 Solar from the manufacturer Logitech. Simple gadget or quality keyboard? Here are our impressions.
Among the myriad of keyboards that Logitech offers, the K750 Solar stands out with its solar panel charging technology, it captures ambient light (solar or artificial) and its battery charges without needing to be plugged in.
Available for a little less than 100 €, and regularly on sale around 80 €, the K750 made a strong impression when it was released in 2010. Since solar charging is today, even more than before, in the air. time, let's see if its construction and typing quality make it a keyboard that has remained modern.
Design For Logitech K750
The K750 Solar sports a rounded design and unfortunately all-plastic chassis. This one bends (too) easily under pressure and doesn't feel very solid. The shiny coating is not a priori unpleasant, but in use, we quickly understand its limits: it easily retains dust, fingerprints and is easily scratched.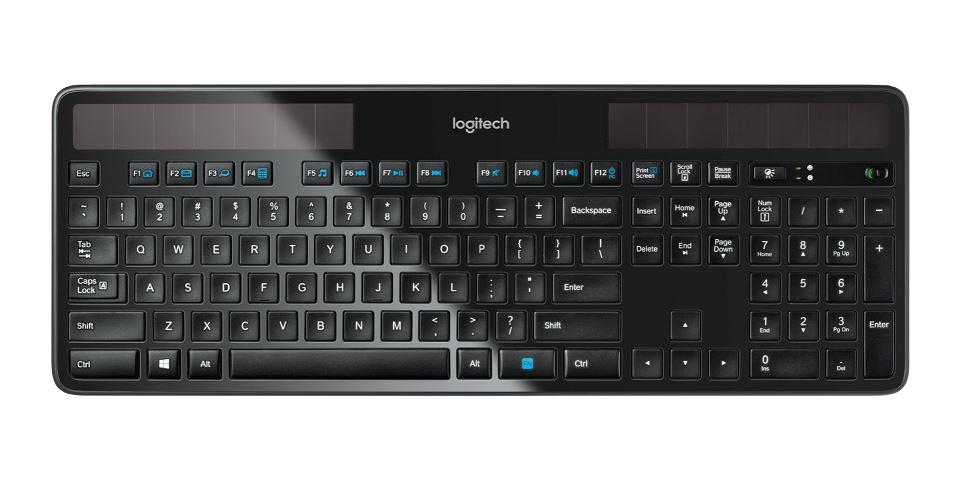 The keyboard is very thin (barely 7.6 mm) and the presence of solar panels above the keys significantly increases its depth, which reaches 15.9 cm.
In the absence of palm rest, however, it does not take up too much space on a desk. Allow 43.2 cm for its total width.
Button for logitech K750
Most of the keys on the keyboard are slightly curved to better accommodate the fingers, but others – like the function keys or those at the bottom of the keyboard (Space, Windows, Ctrl, etc.) re curved, which allows them to be differentiated touch.
The function keys are adorned with a few multimedia or classic shortcuts to the calculator or emails, for example.
See Also : Logitech MK345 Comfort Wireless Keyboard and Mouse
Above the numeric keypad is the On / Off button and a key decorated with a small sun. Coupled with two small smileys , it indicates whether the level of brightness is sufficient to charge the keyboard.
A green LED lights up if this is the case, and a red LED lights up if the panels do not receive enough light.
Connection for Logitech K750
The K750 works wirelessly. Logitech announces 3 months of use in the dark with a fully charged battery. In practice this should not happen, and the keyboard should be able to recharge on most desktops, especially since using the keyboard in dim light is difficult due to the lack of backlighting.
Logitech explains that this would consume too much energy compared to that provided by the light. It's a shame, but that's often the case with wireless keyboards anyway.
If you absolutely want to know the percentage of remaining battery, the dedicated software Solar App from Logitech is free to download. This little app doubles as a light meter, not really useful for most people, but you never know.
Finally, the manufacturer has not inserted any space to house the small Unifying dongle , yet present on many other models of the brand and very practical not to lose this small connector when transporting the keyboard.
Interest for Logitech K750
On this keyboard, Logitech has opted for scissor switches, classic on this type of thin keyboards. Typing is a bit soft and you have to exert some force on the keys to activate them.
Nothing really bad, however, and the strike has the merit of being silent, except on the space bar which is, as often, much more audible.
See Also : Logitech M705 User Manual Guide
Conclusion
While the Logitech K750 Solar is a wireless solar keyboard that's not outdated, it's starting to make its age felt, especially with its average build quality, materials used, and lack of backlighting.
The only element that sets it apart from other office keyboards remains its solar panels and its theoretically unlimited autonomy. A sustainable aspect that makes sense, especially in an electronics sector undermined by product obsolescence.
For a few euros more, the MX Keys from the same manufacturer or the Microsoft Surface seem to us to be better options in terms of ergonomics and functionalities
STRONG POINTS
100% solar charge.
Almost unlimited autonomy.
Wireless.
Quiet.
WEAK POINTS
Medium construction and all plastic.
Glossy coating that marks easily.
Weak feet.
No storage for the Unifying receiver.
Logitech G Hub Software