Logitech Controller F310
Discover a controller that adapts to your style of play. This LOGITECH F310 controller offers you its responsiveness, its pleasant grip, its comfortable range, its multiple analog buttons and triggers and its 2 modes to allow you to play on a PC.
Xinput mode and DirectInput mode for a versatile controller This LOGITECH F310 controller is connected via USB and is therefore compatible directly with your PC. Thanks to the DirectIn standard.
Specification
The key points
PC controller
Wired Technology
PC compatibility
The advantages of this model
Advantage: Intuitive ergonomics
Compatibility: PC
Main Features
Product: PC controller
Technology: Wired
Joystick type: Joystick
Buttons
Directional cross: 1
Action buttons: 4
Menu key: Yes
Back: Yes
Start: Yes
Connectors
Compatibility
Windows Vista: Yes
Windows 7: Yes
Windows 8: Yes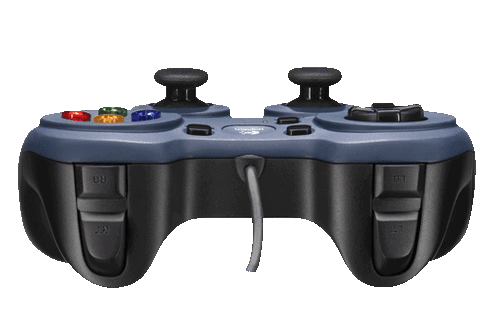 Xinput Mode And Direct Input
This LOGITECH F310 controller connects via USB and is therefore directly compatible with your PC. Thanks to the DirectInput standard that can be activated on the back of the controller, you benefit from a fully personalized experience, with all programmable buttons and a sport mode. Convenient to configure functions as you wish.
The Xinput mode will allow you to simulate the presence of a console controller on your PC and for your games, in order to benefit from a default configuration. The 1.8 meter cable allows you to play with several people without problems and without being stuck in front of the screen.
The Logitech Profiler software is included for supported games off. In XInput mode, you can even take control of an Android TV and play it.
See Also : Logitech Dual Action Game Pad Review
Convenient Buttons For a Comfortable Controller
With its unique eight-way cross , Logitech offers you great navigation comfort. Mounted on 4 switches, it offers you excellent responsiveness and an ideal tactile sensation. The two mini-sticks are also responsive and comfortable, for easy camera and character movements.
This controller is equipped with 2 analog triggerson the back for a perfect gaming experience, with 2 LB and RB buttons, and 4 classic buttons on the right. This console type controller configuration will not disorient you and you will replace your keyboard mouse combo for much more effective controls. T
he rounded profile and comfortable rubber coating will allow you to play without getting tired and without your hands sliding on the controller.
Manual Logitech F310