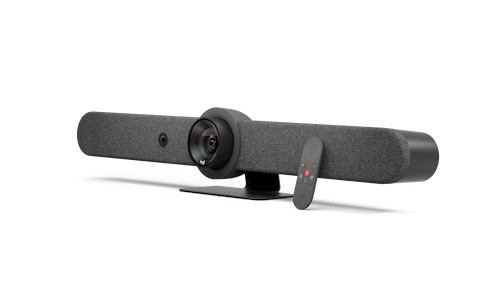 For almost a year and the start of the health crisis, many of us have been working from our homes. Thanks in particular to the latest webcams and headsets, we have been able to organize many meetings and online training during the past year. Faced with urgent demand, manufacturers have worked diligently on innovations to make remote working more enjoyable and efficient. Thus, Logitech has developed a solution that adapts to changing work patterns.
TEST | Logitech Rally Bar: What are the advantages of the all-in-one video conferencing system?
As a partner of Logitech, we were able to test the Logitech Rally Bar exclusively at our premises before the official launch of sales. Here we present the main features as well as the novelties.
Get ready to go back to the office with Logitech!
The last few months have shown that teleworking is possible and works – but unfortunately not permanently. Logitech has created a solution that combines the advantages of digital work and face-to-face interaction: the Logitech Rally Bar.
The video conferencing system all-in-one Logitech :
Can accommodate up to 12 people .
Is easy to set up , configure and use.
Automatically moves the lens and adjusts the zoom .
Adapts to the lighting conditions of the room.
Reduces unwanted noise
See Also : Razer Kiyo Pro High End Webcame Review
Connoisseurs will notice that at this point an all-in-one system with the Logitech MeetUp conference camera is already available and therefore this is nothing new. That is why we compared the two systems with the questions most frequently asked by our customers.
Available colors graphite and white
Built-in microphones 6
Integrated speakers 2
Image resolution 4K, 14K, 1440p, 1080p, 900p, 720p and SD at 30 frames per second
Zoom 15x HD zoom, 5x optical,
3x digital (coming soon with the next software update)
Room detection fields 132.1 ° horizontal 82.2 ° vertical
Speaker output 90 dB SPL at 1 W 99 dB SPL at 8.0 W +/- 2 dB each at half volume
Audio range 4.5 m
Entrances 1x HDMI
3x USB 3.0 Typ A
1x USB Typ C
Exits 2x HDMI
1x External microphone output
Hard disk encryption AES128
Data encryption Symmetrical, ICP
Adapted accessories for more efficient meetings
With Logitech accessories, you can set up your Rally Bar in the meeting room aesthetically and conveniently . In addition to the various supports and the corresponding microphones, Logitech offers the famous Tap Controller. With it, the equipment is always on site and you start your meetings quickly – without having to plug in a laptop or tablet repeatedly and overwhelmingly.
Conclusion
In recent months, digital work has made huge strides. More and more companies have realized that it is possible to work and learn effectively through telecommuting, online meetings, online training and more.
The possibility of working from home will (hopefully) be maintained in the future. Enable employees to collaborate from anywhere, be it their home or office. This is where the Logitech Rally Bar comes in and helps you in your day-to-day work when it comes to bringing together large teams.
The Logitech Rally Bar is ideal for medium sized rooms from around 20m² and up to 12 people. The included accessories are enough to simply connect the Rally Bar to the existing display, plug it into the laptop and immediately start your meeting. Stay efficient with Logitech!
Logitech Software
Logitech G Hub about logitech G hub