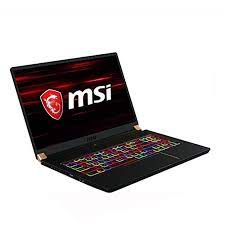 Playing Game anywhere anytime with  MSI GS75 Stealth
With an 8th Generation Intel Core i7 processor and an Nvidia GeForce RTX 2080 Max-Q video card, the MSI GS75 Stealth turns out to be one hell of a nomadic racer.
This is the case of the new MSI GS75 Stealth which took advantage of the announcement of the American founder to present itself with not only a GeForce RTX2080 Max-Q in its guts but also a very interesting weight / power ratio. Thus, thanks to its design, gaming PC on the go has never been so true.
Here is the new MSI GS75 Stealth which obviously offers us the best features of the moment, all in a more than small footprint.
Characteristics
In terms of packaging, nothing very specific since we obviously find the MSI, a documentation for a first handling, the transportable charger. Count from 2300 euros for the model with an RTX 2060. The model we tested is a top-of-the-range model at 3600 euros.
Design
While we are used to a certain design when we talk about gaming laptops (they are more transportable than portable PCs), gaming ultrabooks are still a rare commodity. However, there are futuristic lines that perfectly underline the difference between a PC dedicated to gaming and a PC dedicated to office automation. This is all the more obvious as the GS75 Stealth is less than 2cm thick.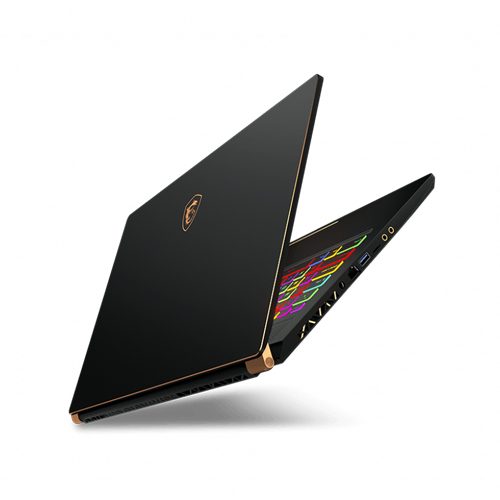 It's only when you have it in front of you that you realize how far you've come since the first gaming laptops.   The brushed aluminum chassis is black in color with copper-colored inserts, which allows for a more adult general design compared to more classic gaming laptops. The whole offers a good finish even if we still regret that the brushed aluminum takes so many fingerprints.
In terms of connections, there are no less than 3 USB 3.1 Type-A ports, two USB 3.1 Type-C ports and one Thunderbolt 3 USB-C port. There is also an HDMI 2.0 port. A lot of progress overall and we are happy to see how the Type-C is gradually gaining ground. The GS75 Stealth keyboard is Chiclet type and it comes from Steelseries, everything is RGB backlit.
Screen, keyboard and sound
In the absence of 4K, the screen of the MSI GS75 Stealth offers, to our delight, a refresh rate of 144Hz and a response time of 3ms. If it is good for FPS, we regret a little that it is not G-Sync or FreeSync certified. In fact, that does not change much except that you will now have the possibility of having 144Hz on the move and that is not nothing. Other than that, the MSI's screen does pretty well with good brightness and contrast, although it's far from the most contrasting. This is more than enough for video games, but the most photographers among you may find the screen a bit tight.
Keyboard
As I said above, the MSI keyboard is a keyboard that comes from Steelseries, renowned props in the wonderful world of PC Gaming. It's backlit and it's up to you whether you want to turn on the backlight or not and if so, set the colors. But the most important is the typing quality and on this point, MSI and Steelseries do not disappoint!
Obviously it's not a mechanical keyboard but quite frankly I've been playing gaming laptops for quite a while and the MSI still does well.   Maybe I'll just blame him for the relatively small numeric keypad. If you are used to using it, you might be disappointed.
And because it's a Gaming Laptop, I've used the trackpad very little. The latter is large and precise, it responds well but who uses it to play? To be honest, I know one who happens to play with the trackpad … a real octopus 🙂 The trackpad of this computer is in any case pleasant with a good playing surface, good precision and above all a good coating .
Audio sound
Finally, for the sound part, it is provided by DynAudio. Its 2.1 system equipped with Giant Speaker was satisfactory and for the majority of gaming tests I did not notice the need to put on headphones, except maybe in Competitive mode at OverWatch 😛 The sound is balanced and I was pleasantly surprised by the bass.
Performance
As we have known for some time, the performance of devices now exceeds our uses. With an 8th Generation Intel Core i7 processor and an Nvidia GeForce RTX 2080 Max-Q video card, the MSI GS75 Stealth turns out to be a hell of a racehorse. So yes, it's still below a good old Desktop PC with desktop components (the frequency is lower for better autonomy and better heat management) but on the move, it remains impressive.
Needless to say that at the time of the test, I did not yet have games that really exploited Ray Tracing, but on the games tested like Overwatch, APEX Legends, everything worked perfectly. Basically, if I had to keep it simple, it doesn't compete with a desktop RTX 2080, but it actually makes it possible to have the equivalent of a desktop GTX 1080. It might sound a bit backward, but in reality it's very impressive as very few games exploit new technologies from Nvidia. Being able to play APEX Legends to the max in Full HD is fine with me.
For technophiles who swear by Ray Tracing. At the time of testing, only Battlefield V supported Nvidia's new technology. In my tests, activating it means a drop in framerate of around 50%. It was still playable and very nice to see, but if you have a 144Hz screen, you might as well make the most of it.
Windows 10 and Dragon Center
Well, like any self-respecting PC, we have the right to Windows 10 and anyway, to play, it's an obligation so we are not going to complain on this point. While the MSI comes with quite a bit of third-party software that I uninstalled as soon as I could, there are some important ones that you shouldn't remove since this is the MSI's control center.
This is Dragon Center and it is an application that will allow you to monitor what is happening at the hardware level on your PC, to make changes, to play with the backlight colors (keyboards, etc.) , activate the Turbo mode of your processor and your graphics card, manage the fans so that they can run at full power or not, create a system image, calibrate the battery and optimize the sound or even the screen.
Software and Support
OUR OPINION
Now that we have tested such a machine, we wonder why LANs are no longer in fashion. The MSI GS75 Stealth is above all a complete and powerful PC. And thanks to Intel and Nvidia, it's ultra-portable too.
If the defenders of the desktop PC will criticize it for not being perfect, it is undeniable that the GS75 is positioned as one of the best solutions for gaming on the go. The future we have been hoping for since the early days of gaming laptops is finally here!