.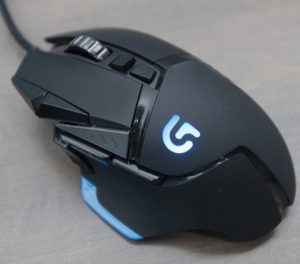 Make you like be HERO?
The world of gaming mice is not the easiest to understand and you can sometimes get lost given the number of possible choices. But Logitech has already established it self in this market and continues. Once again, to make the concept of the Proteus Core flourish with this new high-quality wired version the G502 Hero. We tested it for you and today offer you a recap.
Features of the Logitech G502 Hero
Technical characteristics
Weight : 121 grams (139 with weights installed)
Dimensions : 132 x 75 x 40 mm
Cable length : 2.10m
Sensor : HERO 16K
Maximum resolution : 16,000 dpi
Connection type : Wired (USB)
Compatible OS : Windows 7+, macOS 10.11+, Chrome OS
Number of profiles : 5 (requires version 127.1.7)
ED system : Yes, with color customization
The reputation of the Logitech G502 is well established and it is probably not this Hero version , the third wired model of the mouse. Which will make us say the opposite. It is obviously not free from all faults, but nevertheless represents all that a gamer can expect from a gaming mouse, as long as it is not specialized in a type of game like the MMO, for example. It is without any problem that you will find it in the many comparative gaming mice on the web.
The ergonomics of the mouse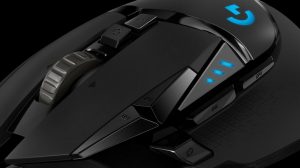 Above all, you should know that this G502 Hero mouse is the third wired version of the Proteus Core. A material released a few years ago that was very well received when it was released. One of its strengths being its ergonomics. It is quite logical that Logitech decides not to change too much at this level. We therefore end up with a G502 Hero with a sporty design that knows how to differentiate itself from its competitors. While keeping the fairly marked recess provided for putting its thumb.
It is in palm grip usethat this mouse will reveal its full potential to you and even a large hand can be placed on it thanks to its dimensions of 13.2 x 7.5 x 4cm. But beware of the fingers that could potentially protrude for some really very tall people. Lovers of claw grip and fingertip can be reassured since the design does not close the door to these types of use.
Is it precise enough?
In short, the G502 Hero is capable of operating up to speeds of 10.16m / s, supporting accelerations up to 40g and has a 16,000 dpi sensor. If that doesn't mean much to you, know that we're really dealing with high quality hardware here. Without the slightest parasitic software smoothing. You may already know this, but a 16,000 dpi sensor, while looking great on paper, is not very useful in use.
We challenge anyone to play a game with such sharp precision without going crazy the cursor will circle your screen with every tiny flick of the wrist. So rest assured, even if we switch to 12K displays in a few months, your mouse will still havetop precision. Only the dial can reduce the feeling of precision when it is "unlocked" and can roll freely. The scroll can sometimes be done in an almost chaotic manner.
The slightly light customization
This G502 Hero can be personalized on two different boards. First, Logitech proposes to increase the weight of this one thanks to five small masses of 3.6g each, making it possible to increase the total weight from 121g to 139g. Basically a little heavy, only players looking for a very strong grip will be delighted by this news. The weights can't really be arranged as we see fit, everything is below the G502. But if you only plan to use three for example, you can still have fun changing the balance slightly by placing everything backwards or all the way forward, if possible.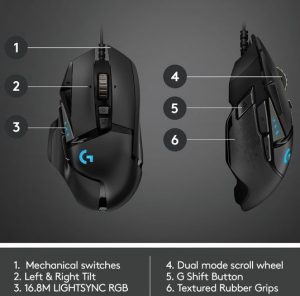 The other way to customize this mouse is its set of LEDs the logo on the top and the selected profile indicator (which we'll talk about later) can be configured in different colors and different types of displays. You will have a choice of effect pulsation of color cycle (all colors are displayed in a row). And even screen sampler (the color displayed on the selected area is displayed on the LED) or of audio viewer who gets the rhythm of the music heard.
Easy to access software
Logitech G Hub software, obviously natively compatible with our G502 Hero, is not the most complete but has a certain ease of access. After choosing the right peripheral on the software home, it will take you to the mouse configuration and offers three tabs LED management, with the features we were talking about above but also the possibility of completely disabling these lights the assignments of actions to the different buttons and sensitivity management.
Each button can therefore be configured more or less as we see fit. System shortcuts (close the session, take a screenshot, change the volume, etc). Actions in software (mute the microphone in Discord for example). A substitution for the keys (useful for refreshing a page with the F5 button configured on the mouse) but also a system of macros. Which allows several actions to be chained with a single click.
Up to 5 different dpi profiles
For sensitivity, the mouse offers you to configure up to 5 different dpi profiles. Which can be used in game thanks to the three dedicated keys one allowing you to go to the definition above. The other to go below and the third button, named "sniper", to select the lowest and thus gain in precision.
It is also possible to manually configure 5 different profiles each containing distinct settings on the three types of settings we have just mentioned. The software nevertheless prefers to offer you a system of profiles automatically offered according to the game launched, which is practical to save time. Last thing, the software logically allows you to update your mouse. Just go to settings and check if G Hub offers a new version.
As you can see above, you have a wide choice of sensitivity settings on this mouse. All programmable and adjustable directly in game.
Our opinion on the G502 Hero gaming mouse
To be honest, this G502 Hero is in no way surprising. But that is precisely not his vocation at all. If Logitech offers this material on the market, it is simply to continue the momentum of the Proteus Core.
Easy to use, high quality, with a relatively affordable price (and sometimes on sale at superb prices). with a sporty design without being futuristic and with welcome features. We are dealing here with a product mastered from the ground up despite a few small gaps. Whether you are a beginner or experienced in the world of PC gaming. This G502 Hero mouse will suit you without a doubt, As long as you are not looking for a lot of customization or a mouse dedicated, for example, to MMOs with 19 buttons.
Like :
Its design, although unchanged, still very good
neat ergonomics
Its manufacturing quality
Precision and performance
His price
Like less :
The wheel that can go crazy in free mode
Its original weight, a little heavy
Cannot set the lift off