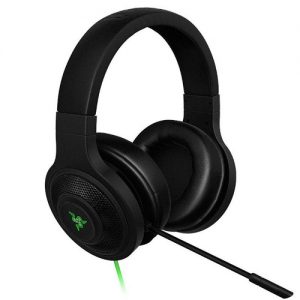 How about the first impression?
Experience complete immersion in the game without feeling the weight; Meet the Razer Kraken X USB, a PC gaming headset that lets you play without interruption. Thanks to its comfortable, lightweight design and superior quality audio, you won't want your gaming marathons to ever end.
7.1 SURROUND SOUND
Equipped with 7.1 Surround Sound , these USB gaming headphones provide more accurate positional audio, so you always get an exact direction of where the action is taking place so you're better prepared to make any decision.
See Also : Review Hyperx Cloud II Gaming Headset
Only Designed to be extremely light (at just 275g), the slim form of these PC gaming headsets is complemented by a suite of features for an ultra light in head feel.
Quality memory foam pads to provide more comfort and noise isolation during your gaming marathons. Soft padding on the headband, relieve head pressure when you use the headphones for a long time. Comfortable fit, the design of the headphones provides a firm and comfortable grip.
FOLDING CARDIOID MICROPHONE
Enjoy crystal clear communication with a flexible cardioid microphone that uses a pick-up pattern that records sound from an extremely localized area in front of the mouth, while suppressing ambient noise from the back and sides.
40MM OPTIMIZED DIAPHRAGMS
Superior sound clarity and deep, powerful bass simulate a wide soundscape when gaming. From subtle footsteps to powerful explosions, game audio simulates real life in fine detail.
GREEN LIGHTING ON THE PADS
Show off your style by lighting up the competition with menacing green underlight emanating from each pad.
PRACTICAL AUDIO CONTROLS
The microphone mute button and volume slider located under the left ear cup are easily accessible, so you can adjust and change it on the fly.
DISCOVER THE RAZER KRAKEN LINE
We have several Razer Kraken models available. Find out more about its features and choose the model that best suits you.
TECHNICAL SPECIFICATIONS
Take a look
7.1 surround sound
Ultra-light comfort
Foldable cardioid microphone
40mm optimized drivers
Green lighting on the ear pads
Headphones
Response frequency: 20 Hz – 20 kHz
Impedance: 32 Ω at 1 kHz
Sensitivity (at 1 kHz): 106 dB
Drivers: 40mm, with neodymium magnets
Pad Inner Diameter: 65 x 44mm
Connection type: USB Digital
Cable length: 2.0 m / 6.56 ft
Approximate weight: 275 g / 0.60 lb
Oval ear cushions: designed to completely cover the ear, with synthetic leather for extra insulation and comfort
Microphone
Response frequency: 100 Hz – 10 kHz
Signal to noise ratio: ≥ 55 dB
Sensitivity (at 1 kHz): -42 ± 3 dB
Pickup Pattern: Unidirectional ECM Microphone Boom
Control on the headset
Volume increase / decrease
Microphone mute switch
Audio usage
Using audio: devices with a USB connector
Using Audio and Microphone – Devices with a USB Connector
Frequent Questions About Kraken X USB
What is the difference between Kraken X and Kraken X USB?
In addition to offering a USB connection, the Razer Kraken X USB also have green underlighting emanating from each earbud, for added flair.
How do I connect the Razer Kraken X USB to my PC?
The Razer Kraken X USB Headphones can be used with most devices that have a USB port. For desktop or laptop computers, you just have to directly connect the Razer Kraken X USB.
Do the Razer Kraken X USB have cooling gel pads?
No, the Razer Kraken X USB comes with memory foam plush leatherette ear cushions.
What colors are the Razer Kraken X USB available in?
The Razer Kraken X USB are classic Black.