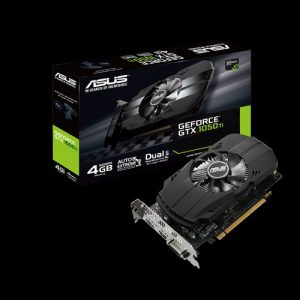 Classic, but very discreet
If Asus tends to offer premium graphics cards, equipped with high-end home heatsinks called DirectCU, the company also offers less upscale models. The GeForce GTX 1050 Ti Expedition is one of these entry-level models, which doesn't prevent it from being quite interesting in practice.
The cooling system used here does not have a specific name. The radiator is quite basic since it is simply a piece of extruded aluminum.
Cooling System
This radiator is in direct contact with the graphics chip and only this one. The power supply stage as well as the memory do not benefit from any dissipation aid. Two fans with double ball bearings are responsible for cooling the block.
Asus is once again using its 0dB technology here, which cuts off the fans when the card is idle. Working passively when no game is running, the card activates its ventilation when the GPU temperature rises above 55 ° C.
You must then strain your ears to hear the very slight breath produced by the two fans. We are here facing an ultra discreet card and this does not come at the expense of the temperature of the chip which is maintained at 68 ° C.
Factory frequencies and manual "overclocking".
This GTX 1050 Ti Expedition is a non factory overclocked model which therefore operates at conventional frequencies. The GPU is thus announced at 1290 MHz base and at 1392 MHz via GPU Boost.
See Also : Cooler Master  Hyper  212 Black Edition Review
After more than an hour of non-stop gaming , the effective frequency of the GPU oscillates between 1533 and 1645 MHz. The frequency of the 4 GB of GDDR5 memory is for its part at 1,752 MHz.
As this is a card without a PCIe power connector, overclocking is necessarily very quickly limited by power consumption. We were thus able to reach a little over 1700 MHz for the GPU and not far from 2000 MHz for the memory.
We will have to wait to test a GeForce GTX 1050 Ti equipped with a PCIe power connector to really see what the GPU has in its belly.
Performance in games
In games, this GeForce GTX 1050 Ti sits halfway between AMD's Radeon RX 460 and Radeon RX 470. The first is ahead of 47% on average while the second maintains a lead of 34%.
This model also performs better than unoverclocked GeForce GTX 960s OC models will then be matched. This ultimately allows you to play in Full HD without making too big a compromise, and in high quality.
Power Consumption
The power consumption of this model is very low since it is a question of 60 watts on average for the card alone. We thus gain 20 to 25 watts compared to the GeForce GTX 950 customs and, above all, we are at half of what a GTX 960 consumes.
Not surprisingly, energy efficiency is there and shines at a very high level. This is without comparison with what AMD offers opposite, both with its Radeon RX 460 and its Radeon RX 470.
Utility For GTX 1050
The PCB used is quite large, although it has few components. The power supply stage is made up of three phases for the GPU and one phase for the graphics memory. Our test copy produced a moderate coilwhine (coil whistle). No PCIe power cord is needed. Three video outputs are present an HDMI 2.0b, a DisplayPort 1.4 and a DVI.
The box contains a CD containing an overclocking utility and a graphics driver. Better to download the latest versions from the respective sites of Asus and Nvidia. There is also a quick start guide and a voucher for 15 days of Premium access to World of Warships. The warranty is 3 years.
STRONG POINTS
Very discreet in games.
Fans off at rest.
WEAK POINTS
No heatsink on the power supply and memory stage.
CONCLUSION
Used to premium graphics cards that offer a whole host of options, Asus shows that it is able to deliver quality entry level models as well. If it is not overclocked, this model is extremely quiet, without neglecting the cooling of the chip, maintained at a suitable temperature.
asus geforce gtx 1050 ti cerberus
asus geforce gtx 1050 ti cerberus review
nvidia asus geforce gtx 1050 ti 4gb
nvidia asus geforce gtx 1050 ti
asus nvidia geforce gtx 1050 ti
asus cerberus geforce gtx 1050 ti