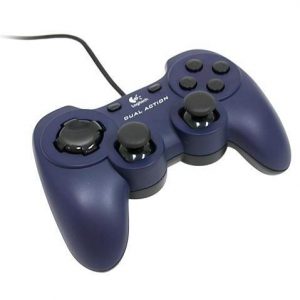 Logitech Dual Action Gamepad review & Experiences
The Dual Action Gamepad is a more advanced version of the Precision Gamepad. It does not have the latter's translucent dress but a midnight blue shell. On the other hand, it is equipped with two Chinese hats, which represents a significant advantage. Their coating is quite specific since it is soft and very adherent, which allows them to hold them well under the thumb.
The Dual Action Gamepad also has two buttons in the middle, four on the right side and four triggers. The joypad comes with Logitech profiler software. This one, as soon as the device is installed, scans your PC to find the games for which it has a configuration or not.
See Also : OFM Essential Racing  Style Chair review
Testing
On our test PC, the software found five of the seven games present and offered two profiles already defined. Note that he found neither GTA Vice City nor FIFA 2005.
It scans the PC and automatically recognizes compatible games. In use, the Dual Action Gamepad is just as effective as its little brother Precision Gamepad. We just note that its directional pad, a little "buried" in the hull requires a little time to adapt before not overflowing.
Its surface is indeed very smooth. Chinese hats are effective and their length, although very soft, does not lack precision. The four buttons are also a bit soft, but their positioning makes them easy and intuitive to find. Regarding ergonomics, no worries, the pad fits well in the hands and no early fatigue is felt.
STRONG POINTS
2 POV HAT
Ergonomic
Practical triggers
Command editor
WEAK POINTS
A bit special directional pad
Editor lacks predefined profiles
Drivers needed
GHub Software Logitech
For Update software and driver Logitech
I am showing the experiences of several people who have used this gamepad.
Very Good Controller 
Very good controller considering that I was able to get it with 30% reduction or ~ 25 €. The grip is pleasant, the sticks as well as the triggers offer good precision for car games. The multidirectional cross seems fragile at first glance but it is solid. OK buttons. On the other hand, no vibrations. ( JeanCharlesD)
---
Great!
Very good alternative to the XBOX Pad, you can feel the quality in the materials. I tried several models in this price range (Thrustmaster) but this one far exceeds the others. I recommend ! (by MickaelK)
---
Excellent compromise
The lower cost than the Sony or Microsoft models and the quality of its realization are important advantages. NB: the controller is recognized by Windows as a Microsoft 360 controller. (by XavierP)
---
Good product
Delivery deadlines respected, product works correctly. (by Alexandre S.)
---
I love
good grip, easy to handle for games. (by Wilfrid P.)
---
She does the Job
a good controller that reminds me of our good old playstation controller.(by AlexandreC)
---
Works fine without more
We are in 2020 and we are struggling to find the correct controllers, something that has existed for more than 40 years without any particular functional change. This controller is nothing exceptional, a copy of a playstation controller, it works, but makes too much noise when you press the buttons. I didn't want to pay too much, otherwise I would have taken a console controller directly.(by JeromeB)
---
Good Controller
Good PC controller for playing games like Need for speed and soccer games.(by BrunoR)
---
Good product
Material in line with expectations.(by Jean-Sébastien P.)
---
excellent
those who are used to console controllers will not be penalized!(by Stephane M.)
---
Good grip
No complaints about the keys, positioning and size, I got used to it very well and it is very practical. (by Yannick C.)
---
Good product
nothing to report compliant product.(by PHILIPPE P.)
---