Razer Basilisk x Hyperspeed : Comfort Mouse?
A more economical variant of the wireless Basilisk Ultimate, more extravagant, this Basilisk Hyperspeed gaming mouse uses an AA battery. Considering the $ 60 price tag, there are a lot of cool features in this Razer Basilisk X Hyperspeed mouse.
For those looking for a comfortable and durable gaming mouse who don't need Razer's usual LED trims, this is a great choice.
Razer Basilisk x Hyperspeed
Razer HyperSpeed Ultra-Fast Wireless Technology: With low latency and uninterrupted frequency in noisy environments, you won't even notice you're playing with a wireless mouse.
Use dual mode Bluetooth connectivity for long battery life. Razer 5G advanced optical sensor for
The design of the Razer Basilisk x Hyperspeed
You could describe the Basilisk X Hyperspeed as a mouse with a sharp, curved design. The plastic of the mouse is very nice, a little rough on the top for a good grip and soft and grippy on the sides.
There is also a bump on the right side so that your thumb can rest when it is not on the dedicated buttons.
This also means that the mouse is only suitable for left-handers. The left and right click buttons are pleasantly clickable. The thumb buttons are quite thin and very practical, easy to access.
See Also : Logitech G600 Gaming Mouse Review
If there's one item that stands out among the mouse buttons, it's the scroll wheel . It's large and precise, clickable enough to switch weapons easily, but fast enough to switch several at once.
The last button is a simple button below the scroll wheel, which is used by default to change the DPI setting of the mouse. The most distinctive feature of the original design of the Basilisk Hyperspeed, however, is the lack of a sniper button.
Razer Basilisk X Hyperspeed Features and Performance
Like most high-end wireless gaming mice these days, the Basilisk will give you the choice of a standard 2.4GHz USB RF connection or a Bluetooth wireless device that works with almost any computer and mobile device. The first is Razer's "Hyperspeed" wireless, which it says is 25% faster than the others in terms of latency, at just 195 microseconds.
The USB wireless connection is so fast you will never be able to notice it. The performance of Bluetooth is quite similar, only a few players will really see the difference between these two types of connection.
Switching from 2.4 GHz connection to Bluetooth is ridiculously easy, and pairing a new receiver or device is also fairly straightforward.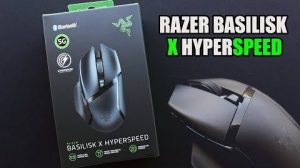 Related Post : Corsair Vengeance LPX 16GB Ram Test & Review
Razer claims an impressive 450 hour battery life on a single AA in Bluetooth mode. Battery life drops to 285 hours using Hyperspeed wireless mode . Users can switch between them (or turn off the mouse) using the single switch on the bottom of the case.
The Basilisk's optical sensor goes up to 16,000 DPI. Synapse allows you to customize DPI steps, but only up to a maximum of five. Other options include calibration for different mouse pad surfaces and auto shutdown delay. There are no RGB lighting options because there simply are none!
Razer Basilisk Hyperspeed : Reviews
For a great price, the Basilisk X Hyperspeed does everything you want a budget wireless gaming mouse to do. It doesn't have the extra-flexible clutch knob of the wired Basilisk or the Basilisk Ultimate.
But its excellent cordless operation, battery life and price make up for it. The Basilisk X Hyperspeed isn't the best gaming mouse you can buy. But it's probably the best wireless, durable, FPS-like mouse you can buy for $ 60.
It's not ideal if you want something that can handle MOBA-like gaming controls and doesn't easily switch between PCs.
Support Razer Basilist Hyperspeed
More support for Razer Basilist Hyperspeed