Perfect PIXEL?
For some time now, Razer has been diversifying its range, originally a peripheral specialist, and now screens come into play. With some of the graphics qualities of recent games, whether competitive or not, they require a screen with good quality.
Graphics but also a high frequency for the most demanding gamers on the fluidity of the game. This is where Razer comes in by offering this screen: the Razer Raptor 27 inches .
A screen of excellent build quality on a 27-inch IPS panel with QHD resolution with a refresh rate of 144Hz . An excellent compromise between pixel density and game fluidity.
Design
On the design side, once unpacked, the monitor is mounted directly on its stand. There is a fairly large 27-inch panel, a size of a perfect compromise for FPS and big triple A.
With an excellent finish and an elegant design that does not leave indifferent on its aluminum base under -Lead by a very nice and fairly discreet RGB outline, which Razer knows how to get us used to.
The screen is not curved which is quite a shame for a screen of this size, but it is forgivable given the quality of this screen.
See Also : Full Review AOCC24G1 Gaming Monitor
Screen
The advantage of tilting this screen is the passage of cables because we have direct access to the screen ports that we will present later. For the cable glands, the idea was good, however the cables are difficult to pass and the clips go too easily and the flat cables twist too easily, which risks damaging them.
Another negative point, the installation and connection of the cables is clearly not the most practical. The ports are quite difficult to access.
As far as the cables are concerned, they are in the brand's iconic green color. They are flat which allows them to be stored easily, however they are difficult to mold when you want to work on your cable management. We note, however, that Razer has been generous in providing cables, with USB-C, DisplayPort and HDMI, depending on your preferences.
The Razer Raptor 27 is still a small slap in terms of aesthetics. Few of the screens are so well finished and with such an excellent build quality and a design as refined as this one.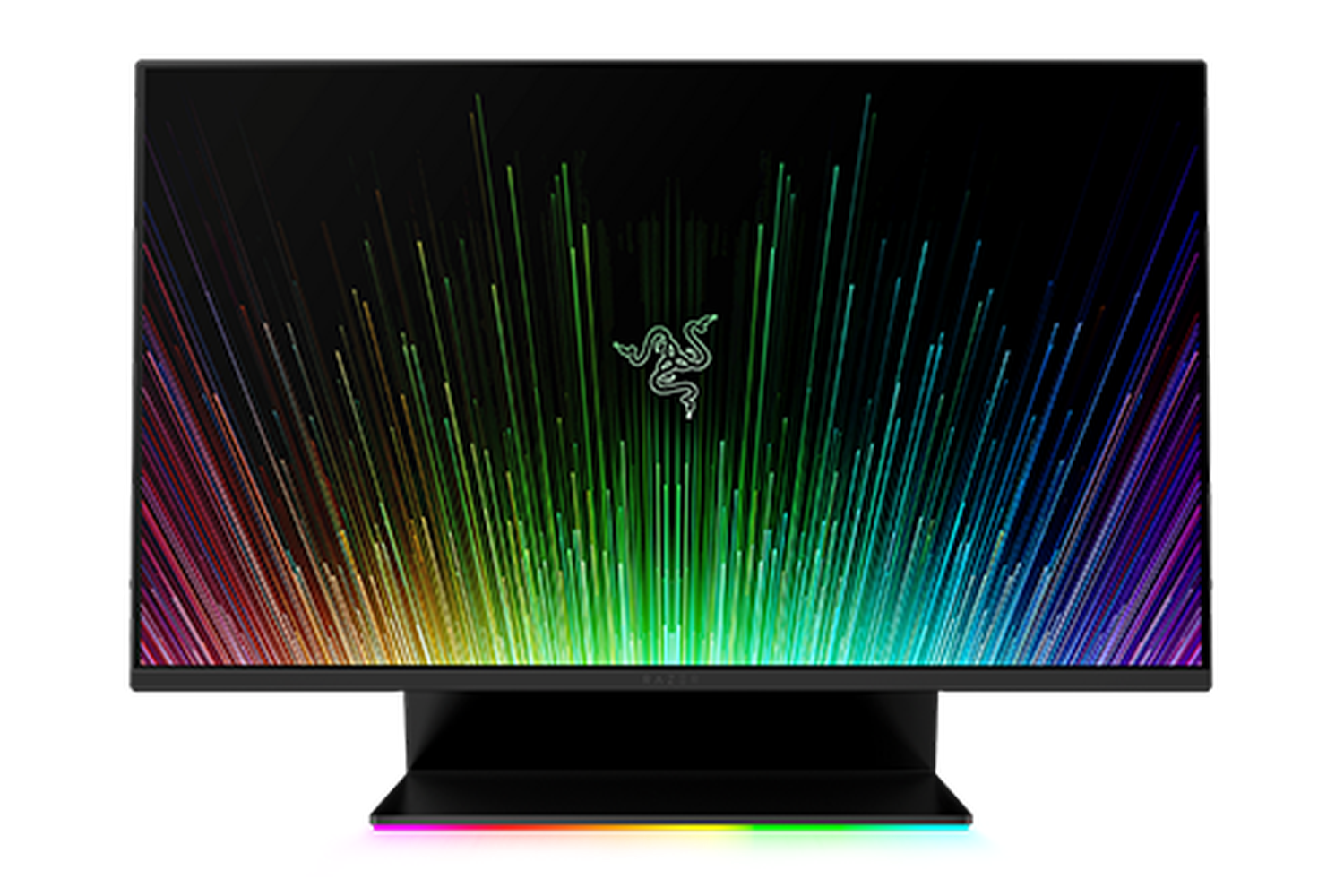 Image quality
Now for the most important part, the quality of the image and the comfort that Razer offers us on this Raptor 27. Naturally when we put nearly 800 € in a screen, the main expectation is an excellent quality of the image.
The frequency as well as the colorimetry, are also two criteria to which this screen responds. At first glance, the resolution of 2560 x 1440 pixels in 16: 9 allows a good density of pixels for a picture of great sharpness.
This resolution is an excellent compromise between Full HD and 4K UHD, which allows an excellent ratio in terms of image quality which, given the power of current graphics cards, is fully in line with high frequencies. However, you still need a graphics card up to the task in order to take full advantage of it.
See Also :  Review ASUS TUF Gaming VG279QM
Screen Tested
The screen has been tested on a Razer Blade 15 with the following configuration:
Intel Core i7-10875H
16 GB DDR4 RAM
Nvidia RTX 2080 Super MAX-Q
As for the games, we tested both the triple A games to test the image quality itself as well as the FPS to test the fluidity (all the games have obviously been tested in maximum quality).
Shadow of the Tomb Rider which thanks to this screen is very pleasant to play.
Dark Souls 3: 60 fps, very good play of light and contrast
Fortnite: 144 fps
StarWars BattleFont II 1080 ultra: 144 fps constant
Jedi Fallen Order 1440p ultra: 90 fps constant
Brightness
Naturally, with a setup like this such a screen shows its full potential in games. The fluidity is very good, relatively classic is a 144Hz in FPS type games is t r Bachelor nice, and most importantly, very useful. All this coupled with the resolution of 2560 x 1440 pixels and you have an excellent gaming monitor.
You have to take into account that a resolution like this requires a good configuration in order to take full advantage of it.
But what about the image quality? Well it's pretty good, indeed the brightness is good (420 cd / m²) and the contrast too (1000: 1). The color range is managed by Razer Chroma RGB Underglow with its 16.8 million colors which offers a wide range.
Resolution
The advantage of this screen, in addition to its resolution and frequency, is the type of panel that was used. Here, we have an IPS panel, this allows precisely this excellent brightness and this contrast. IPS technology allows better color reproduction as well as a viewing angle, close to 180 °.
However, the response time is slower, in fact this screen has a latency of 4 ms, which is relatively high for a gaming type screen, especially for competitive players who will certainly experience this latency.
Note, however, that to take full advantage of this screen, no specific adjustment is necessary, which is an excellent point.
The connection
In terms of connectivity, the Razer Raptor 27 is relatively well supplied. There is an HDMI 2.0, a DisplayPort 1.2 which naturally allows you to take advantage of the maximum frequency, USB-C 3.1 which allows the charging of a laptop as well as the passage of the DisplayPort protocol. There are also two USB 3.1 ports in Gen 1.0 that allow you to connect other peripherals.
It is also necessary to speak about the green cables with the image of the mark which recall the logo. They are solid but we regret their flattened shape which does not allow total malleability during cable management.
Cable Management Raptor 27 inch
However, when it comes to pure connectivity, the Razer Raptor 27 is good, it has it all without having too much and allows any type of connection of multiple devices.
This Razer screen is certainly relatively expensive but we can not deny that the quality is present. The finish is beautiful and the design is sober and beautiful. But the main argument of this screen is its panel, a high frequency of 144 Hz, as well as a beautiful resolution.
IPS Panel Raptor manitor
But Razer, unlike some brands, does not stop there and offers us an IPS panel of an excellent quality. Which allows a better immersion in games, better colors and all with the characteristics of a classic gamer screen of this range.
This slab is appreciable as much for gamers of adventure games, RPGs and others as for more competitive players. However, we regret the lack of VESA support, here the foot (certainly beautiful) is imposed on us and the configuration on the desktop is more limited, as the format of the cables.