The Best Webcam of 2021?
The Razer Kiyo Pro is a high-end webcam offered at around 200 €. It mainly targets players who are fans of streaming or professionals wishing to equip themselves with an efficient and easy-to-use solution for their video conferencing.
It stands out with its HDR option allowing it to offer very good image quality. With or without additional lighting. It is capable of filming at 1080p60 in classic mode and 1080p30 with HDR mode enabled.
Peformance Razer Kiyo Pro Webcame
Three years after its Kiyo , Razer is upgrading its webcam by unveiling a new Kiyo Pro version . For this second generation, the manufacturer is abandoning integrated lighting and relying on a much more efficient sensor to appeal to streamers and professionals who multiply videoconferences.
The manufacturer announces that it has developed a sensor capable of adapting to different lighting situations, and in particular with low light. A point that should be of particular interest to players who are used to playing in dark rooms.
For the rest, the Kiyo Pro offers 1080p 60 or 1080p 30 capture when you activate its HDR functionality and it is possible to opt for a more or less wide viewing angle.
Positioned at the top of the range with a price of around € 200 , it competes with models such as the Logitech StreamCam or the AverMedia PW513.
Design & Ergonomics
The webcam takes a circular look quite close to that of the first Kiyo. Its size is however a little more imposing, with a slightly deeper body and a completely revised adjustment system.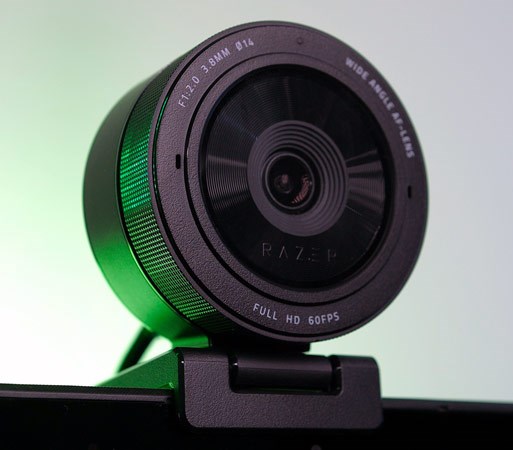 The webcam chassis is crafted from a rather confident black plastic, with a ring on the front reminiscent of the one found on camera lenses.
The latter is however more aesthetic than anything else, since it cannot be rotated and therefore does not allow to mechanically adjust the zoom or the focus of its lens.
Webcam USB-C Connector
At the back, there are various perforations to limit heating as well as a USB-C connector. The Kiyo Pro now benefits from a removable cable, and if the 1.5m length offered by the default cable is not enough for you, we can easily opt for another slightly longer cord.
As for the adjustments, the camera is fixed on a first plate allowing it to rotate 360 ​​° as well as from bottom to top.
It can be dislodged from this fixing to come and place it directly on another support or a tripod thanks to its integrated screw thread.
See Also : Logitech C922 Pro Webcam Review and Test
The webcam can be mounted on a tripod
The support is then made up of two plates with soft-touch coating making it easy to hang the Kiyo Pro behind a screen or, on the contrary, to place it directly on your desk. It all works pretty well and the webcam should be able to adapt to just about any situation without too much problem.
Under the support, there is also a second screw thread allowing the assembly to be fixed once again on a tripod, a telescopic arm such as the Elgato Multi-Mount or on a ring-light for example.
Finally, when not in use, it is possible to place a cap in front of the lens so as to hide it. We would have preferred here a system directly integrated into the camera in order to avoid losing it.
Image quality
Now that we have looked at the owner and the options offered by this Razer Kiyo Pro, let's move on to image quality.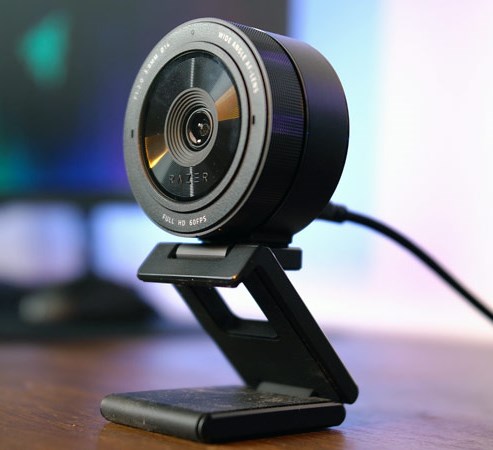 As explained a little earlier, the webcam offers two types of capture with a classic mode in 1080p at 60 FPS and an HDR mode still in 1080p but this time limited to 30 FPS.
For once, it's a bit of a shame that we are limited in terms of framerate in this second mode, because we will see that the latter brings a real plus in terms of image quality.
4k Recording not Support
Despite its price of 200 €, also note that the Kiyo Pro does not offer 4K recording. If this may seem strange for some users, we find on our side that the Full HD resolution remains largely sufficient for a webcam.
In addition to these two recording modes, it is also possible to opt for a more or less wide viewing angle at 80 °, 90 ° and 103 °. In practice, however, we will see a little below that the differences between these three modes are not really huge.
Rather than a long paving stone, we suggest you discover below some examples of capture in different situations. Obviously, to better appreciate the image quality. We especially recommend that you take a look at our presentation video available at the top of this article or directly on our YouTube page.
Better than Logitech C920?
Also, in order to obtain a point of comparison, the Razer Kiyo Pro will also be compared to the aging but still very popular Logitech C920. available for its part under the bar of 100 € as well as a Samsung Galaxy S10E smartphone via the Iruin Webcam application.
We will try to add you eventually a comparison against the Logitech Brio 4K, the high-end model of the brand.
See Also : Logitech HD Pro C920 Webcam Review
Conclusion
With its Razer Kiyo Pro, the manufacturer offers a convincing high-end webcam. Thanks to the HDR mode, the image quality is there. And whether or not you have specific lighting to illuminate your room.
We appreciate its well thought out ergonomics, allowing it to adapt to most situations and screens, but also to the vast majority of media. The finishes are also of good quality, but we may regret a (removable) cable that is a little too short.
The question of price obviously remains, because at nearly € 200 this Razer Kiyo Pro is clearly not cheap. For a similar budget, today we can equip ourselves with an Elgato CamLink style capture card. And associate it with a used GoPro for example.
The image quality will probably be better, even if we lose the " Plug-and-Play" side of a traditional webcam. To see according to your preference