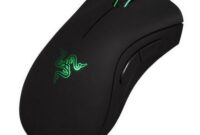 Razer DeathAdder Essential : Right for Gaming!
Gamers must be familiar with the 3 snake head logo, a trademark that produces quality products, especially in products for gaming. Razer has managed to have a fanbase in almost all continents. The company has developed and built the largest gamer oriented ecosystem of hardware, software and services.
Like this mouse which we will review.
MOUSE OVERVIEW
This legendary model from Razer has marked gamers for over 10 years. In 2018, the DeathAdder Essential got a makeover and retains its reliability and ergonomic shape.
Although this mouse is the entry level of the Razer brand, it performs very well . It has a 6400 DPI optical sensor, 5 "Hyperesponse" programmable buttons and a lifespan of 10 million clicks.
We also find the iconic green lighting on the Razer logoand the dial. It is a light wired mouse with its 96 grams and has a cable of 1.80 meters.
UNIVERS – GAMES REVIEW 
The DeathAdder Essential Mouse has excellent value for money with a powerful and ergonomic mouse. If you don't need more than 2 extra buttons in the game and are on a low budget, this is probably a great choice!
RAZER PRECISION    
The Razer DeathAdder "Essential" or classic, was designed for gaming, but does well for all situations on a computer. It has a 6400 DPI optical sensor.
It can travel 220 inches per second (IPS) with a maximum acceleration of 30 G which is relatively fast.
The mouse has an ultrapolling of 1000 Hz (response time of 1 ms) which is excellent for games, you will not feel any latency!
For the price of the DeathAdder, the precision is incredible as often with Razer, you could not ask for better.
ERGONOMICS & DURABILITY    
The shape of the mouse is simplistic, but that's what makes its strength, the hand is very well suited to the overall shape . The dial as well as the two buttons on the side are intelligently placed.
Remember that this is a model for right-handed users, it also exists for left-handed users, but it is not exactly the same version.
We can also talk about the size of the mouse: 12 cm length x 7.3 cm in width x 4.3 cm height, which makes the mouse quite long and very small hands will not be comfortable.
Let's end by saying, that the left / right clicks are quite loud and unfortunately it doesn't have rubber grips on the right side for holding during long gaming sessions.
GAMING FEATURES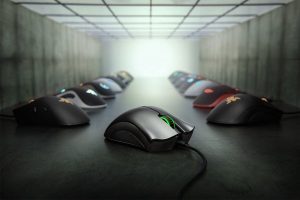 In terms of functionalities, it is quite fast, so there are 2 additional buttons on the thumb. Which are programmable via the "Razer Synapse 3" application (complete and easy to use software).
The backlighting is a single color "green", if you want RGB lighting, you will have to start with a higher model like the Razer Mamba.
Via Razer Synapse, you can adjust performance like DPI directly and save game settings.
To finish,the Razer DeathAdder Essential mouse comes with a 2 year warranty and is Xbox compatible for basic controls.
Razer also produces a product called RAZER DeathAdder Elite Gaming Mouse, don't forget to read also who knows this mouse is right for you.
A true gamer must have one of the tools branded razer , do you have a razer brand?