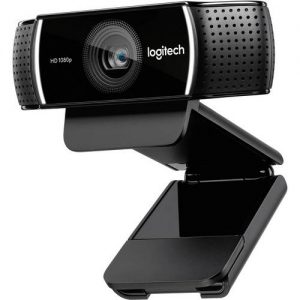 Able to make streaming better?
Webcams have become almost indispensable accessories. They are found everywhere whether integrated in a tablet, laptop, mobile phone. They are a very practical tool for communication and for keeping in touch with friends and family, as well as for organizing videoconferences with your partners or co-workers. But there are plenty of other useful ways to use a webcam, which range from gambling games to watching your house while you're on vacation. We have therefore published a very complete summary file on the different webcams that exist on the market, We will now focus on a model that had already caught our attention for our tests, the Logitech c922 Pro webcam.
MAIN FEATURES :
Professional webcam for streaming
Broadcast Full HD 1080p at 30 fps and 720p at 60fps
Customizable background
Automatic lighting correction
Two omnidirectional microphones
Tripod for fully adjustable planar surface
Compatible with XSplit and OBS
As always before our tests, we offer you a summary of the technical characteristics of the product provided by the manufacturer:
A webcam is generally not good enough to replace a camcorder. But Logitech wants to change that with the HD Pro Webcam c922 Pro, which can record video at 1080p resolution. It also features a Carl Zeiss glass lens and an excellent stereo mic. This is a very high quality webcam that is offered at Amazon with a Pack Logitech G933 headset microphone and a tripod.
ERGONOMICS
The Logitech c922 Pro looks a lot like the c920 model. Its sensor features a Carl Zeiss-branded Full HD glass lens and is flanked by two microphones to capture stereo sound. It is equipped with a rubber-lined clip that adapts perfectly to laptop screens and external screens. It is also mountable on a tripod.Supplied with a tripod for a flat surface, it incorporates a swivel mount and is extendable up to 18.5 cm to allow your C922 to adopt the most advantageous angle.
VIDEO QUALITY
The video quality of the c922 Pro seemed rather excellent in 1080p HD mode, it even exceeds the level of the famous c920. The images were crisp and smoothly moving. It sometimes happens that the webcam is a little disabled in situations where the brightness is very important, nothing very serious however. You can also activate a fairly large set of video effects.
This is a webcam which is really perfect for those who want to get into streaming for example.
AUDIO QUALITY
The stereo microphone produces excellent sound. The audio quality is very good and the vocals are loud, warm and clear. There really isn't much to complain about. The webcam is equipped with ambient noise filtering technology which is very effective as on the c920.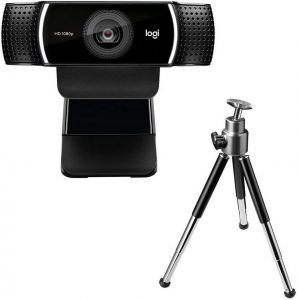 CONCLUSION
The Logitech c922 Pro webcam is a high quality webcam. Only the most demanding users will want to invest in such an expensive, yet efficient webcam. This is really a high end webcam that will give complete satisfaction to its owner. Video quality is incredibly crisp, with crisp detail and vivid colors. It really is a great webcam.
We recommend that you read our Logitech c920 webcam review if you are looking for a slightly cheaper but just as efficient webcam.
DESIGNED FOR SEASONED STREAMERS
Are you a streamer looking for a webcam that can make a difference to other streamers? While the C922 Pro from Logitech is for you! The latter allows you to stream and record videos in 1080p at 30 frames per second. Plus, the C922 Pro automatically adjusts for low light conditions as the dual omni directional microphones capture stereo audio from all angles.
logitech c922 pro stream 1080p hd webcam
c922 pro stream webcam review
logitech c922 vs c930e
camera settings software logitech c922