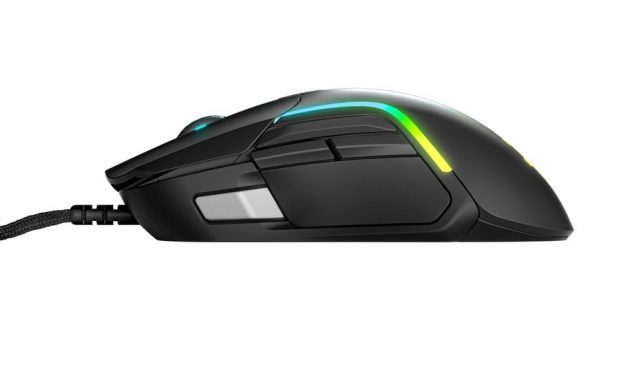 Choosing the right mouse is essential for anyone who spends time on a PC. Whether for office work or for gaming. Since the budget for these mice can vary greatly, it is sometimes difficult to make a choice. and clearly identify their needs.
Here is a selection of the best mice on the market. Whether for gaming or for office automation, with a versatile selection.
Mice under $50
Microsoft Pro IntelliMouse – Simple, simple, effective
Sometimes you don't have to look far to combine sobriety and efficiency. With its sleek, even timeless design, the Microsoft Pro IntelliMouse is one of the heavyweights in its class. With an almost unbeatable price/performance ratio. Perfect for office automation for its comfort, very efficient in game thanks to its high precision. It will meet all the needs of those looking for a simple mouse, without eccentricity, which can be quickly taken in hand and which offers performance all the time. valid facts.
Trust GXT Morfix – The versatile mouse
The particularity of this mouse is to have four interchangeable magnetic plates. Which will add many buttons, with a complete software which will offer several configurations. Particularly practical when you are an MMO player, especially for those who want to completely personalize their experience. In addition to this non-negligible advantage, the GXT Morfix is ​​very pleasant in the hand, and has a correct weight. With a solid braided USB cord which will allow it not to wear out too much over time.
Trust GXT 960 Graphin – A satisfying entry-level
If you are looking for an entry-level mouse, which will not ask you to invest the cost of a game and which nevertheless offers good performance. While displaying a colorful look, the Trust GXT 960 Graphin will satisfy you. With its very complete software to completely customize its use and lighting, not to mention a grip that is just as effective, it will largely satisfy those who need a wired mouse that does the job.
SteelSeries Rival 3 – The best in its category
Undeniably one of the best picks if you're looking for an affordable gaming mouse. Both lightweight and easy to grip, the SteelSeries Rival 3 is a mouse that's easy to use and move around. Thought above all for video games, its more traditional forms also make it a good companion for working and browsing on the PC.
It has a TrueMove Core optical sensor, RGB lighting and six buttons, making it a mouse with multiple options for its price. Note that despite its ambidextrous shape, two side buttons are located on the left side, which ultimately makes it a product especially intended for right-handers.
Mid-range mice
Undoubtedly one of the best mice on the market. cCompeted mainly by the V3 model which is certainly a little more expensive. But even more efficient. The Razer Basilisk V2 is an extremely light mouse that does not lack precision. with in particular buttons on the edge that adapt perfectly to FPS, without this mouse being overloaded.
We will also note great ergonomics with a fairly sober design for a mouse from this manufacturer, with an adjustable wheel.
Logitech MX Anywhere 3 – Guaranteed autonomy
Very elegant and available in several colors, the Logitech MX Anywhere 3 is also a mouse offering significant customization for working (or playing). With fast navigation thanks to its MagSpeed ​​wheel, and its ability to switch from a computer to another (up to 3). It also has a long battery life, which makes it one of the most pleasant wireless mice on the market.
Razer Naga Trinity – Personalization first
Still at Razer, we find the Razer Naga Trinity which will be above all very interesting for players. Especially those who need great customization and a wide choice of buttons directly at their fingertips.
Thanks to its interchangeable panels, it allows anyone to best configure their experience with a lot of shortcuts available. Despite all this, it remains sober and ergonomic, and can therefore be used in any context.
MSI Clutch GM41 Lightweight Wireless – Perfect for FPS
Sober and light, the MSI Clutch GM41 Lightweight Wireless has a charging base (as well as a long battery life of around 80 hours) and efficient software. Which allows you to configure it as you wish.
Thanks to the PixArt Paw 3370 sensor, movements are more pleasant than ever, and its use is perfect for all FPS. Since its response time is very satisfactory for a wireless mouse.
Logitech G903 Lightspeed – Perfect for ambidextrous
A particularly light mouse, the Logitech G903 Lightspeed also has great precision that can be customized using comprehensive software. In addition to having a major advantage, that of being able to be used by right-handed people as well. than lefties.
The many buttons can also be configured to adapt to everyone's needs. And it also has a long battery life for long gaming sessions. Its wireless connection is also optimal with a very low latency rate.
Logitech MX-Master 3 – One of the best products on the market
As with the G903, Logitech offers a high-quality mouse here that adapts perfectly to the contours of the hand. Like the Logitech MX Anywhere 3, its Logitech Flow technology allows you to work with up to three different computers. While its very long battery life will allow you to take it everywhere with you without fear of breaking down.
In addition, it has a wheel located towards the thumb that helps in quick navigation and various and customizable buttons, as well as great precision. If it does not quite compete with other more gamer-oriented mice in this same price range. It aims for excellence in office automation.
Corsair Dark Core RGB Pro – Ready for all uses
The Corsair Dark Core RGB Pro Mouse is arguably one of Corsair's best products. Especially if you're looking for a gaming mouse. Can be used in wired mode as well as wireless (with a low latency Bluetooth connection), it adapts to all needs.
Its great precision goes hand in hand with its satisfactory autonomy. With ergonomics that has nothing to envy to its other competitors.
Before choosing your mouse , it is essential to ask yourself the right questions. Generally, a good quality mouse accompanies us for a few years and several hours a day. We must therefore be careful not to choose just any one while wondering if it meets our needs.