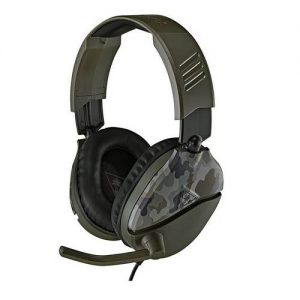 Turtle Beach Recon 70 – The ideal gaming headset at a low price?
We are finally approaching the end of containment. And like many, you may have taken advantage of confinement to discover new ways to be entertained. For example video games. Or, maybe you were already a confirmed player in solo games, and the confinement was an opportunity to try your hand at online games.
So, like any good self-respecting gamer, you will take advantage of the deconfinement to get a gaming headset so that you can fully enjoy your online games with your friends in optimal comfort.
What if the Turtle Beach Recon 70 was the headset for you? Its low price is already a good first point that will allow many gamers to benefit from a suitable product at a lower cost. But is the latter also satisfactory on other points? We see this together!
New Presented Form Turle Beach
It is a brand that is no longer presented in the gaming accessories industry. Turtle Beach is an American company located in San Diego (California) and today culminates among the best suppliers of gaming equipment.
See Also : Razer BlackShark V2 Test : Powerful Tones For Enthusiats
Last year the "Recon 70" range was launched. The idea was to offer a gaming headset at a low price for beginner players or simply for those who cannot afford to spend a hundred euros in this kind of accessory to enjoy their passion as it should.
After several weeks in our hands, it's time to deliver our verdict on this helmet.
CHARACTERISTICS
Connections : 3.5mm jack socket
Frequency response : 20Hz – 20kHz
Earphones : 40mm with neodymium magnets
Cable length : approx. 120 cm
Integrated controls : main volume adjustment, mute microphone option
Microphone : multidirectional, rocker and non-detachable, can be cut with a gesture by lifting it
Padding of the headband : synthetic leather with foam
Coating of the pads : enveloping (closed), synthetic leather with foam
Design Of Headset Turtle Beach
In terms of design, the Recon 70 looks a lot like other headsets in the Turtle Beach range. However, the latter is completely plastic.
It is available in several colors including satin gray, camouflage navy blue, and camouflage khaki. But it is also available in blue, green and red to recall the colors of current consoles (PS4, Xbox One and Switch).
Related Article : Nubwo N7 Gaming Headset Review
Helmet Of Turtle Beach Recon 70
The helmet is rather light (approximately 220 g) which really allows it to be kept on your head for several hours without feeling any weight. It is rather comfortable at the level of the ears.
It is possible to turn the ear cups 90 ° which is quite practical for the transport and storage side. The comfort of the headphones is quite good, even if we are far from the "pro" models which are more "softer".
They are also padded with foam and offer fairly decent sound insulation. The case is rather comfortable also at the level of the arch which has a fine foam padding on its internal part.
Comfortable to wear?
As for the integrated control options, we have the minimum with a dial that is present on the left side of the headset to adjust the volume. We also have a microphone which is present via a rocker microphone.
The cool option is the fact that the microphone automatically switches to "Mute" when you replace it in its place. The sound will reactivate itself once the microphone is lowered again. As for the hoop, it can be adjusted to ten different sizes depending on the size of your head.
Once placed on your head, the helmet remains of modest comfort thanks to its lightness. This is a product primarily intended for console players, since the PVC cable is approximately 120 cm long. Which is ideal for connecting it to a controller, but a bit short depending on your PC setup. The sound offered by the 40mm headphones with neodymium magnets is 20Hz – 20kHz.
Audio Output for Turtle Beach
It's not the prettiest audio output we have, but for the price it's still okay. As for the quality of the microphone, again it is rather interesting for the entry level. When you play online, your friends will hear you fine.
Small problem, the microphone is far enough from your mouth. This will pose two problems. The first, is that you may hear the ambient noises of the room in which you are.
The second is that when using software (such as Discord), you may need to increase the gain of your capture device in order to obtain sufficient volume.
In conclusion, this Turtle Beach Recon 70 turns out to be a perfect small model for beginner players or those who do not want to invest large sums in gaming accessories. If you play online occasionally, don't have long three-hour gaming sessions, this model is perfect for you.
Lightweight, therefore comfortable (despite a very modest reinforcement of the headband), the headphones also offer good sound proofing combined with good audio quality in relation to quality / price. The microphone will also allow you to communicate with your friends online without quality worries.
Specs of turtle beach recon 70
Ps4 turtle beach recon 70
turtle beach recon 70 white
review turtle beach recon 70
turtle beach recon 70 charging