Logitech BRIO Ultra HD webcam for video conferencing : Full Features?
BRIO is a webcam to the most advanced technology in the world and get videos professional quality video conferences, video broadcasting and recording. Logitech BRIO comes packed with features to produce great videos in any environment.
The ultra high definition 4K camera offers 5x digital zoom, high frame rate, exceptional performance even in low light, HDR resolution and RightLight 3 technology.
4K Optical Components
Thanks to 4K optical components and its field of view wide up to 90 degrees, Logitech makes everyone around the table perfectly visible. In addition, its audio system optimized for quality acoustics in small meeting spaces, so that all participants can be heard.
See Also : Full Review AOC C24G1 Monitor Gaming
Logitech's advanced optics deliver impeccable image quality , thanks to autofocus and various options for the field of view: 65 °, 78 ° and 90 °. BRIO is also full of additional features : it is notably compatible with infrared facial recognition with Windows Hello to strengthen the security of the connection.
Various Types of Connections
Various types of connections and offers the freedom to be able to attach the camera where it works best (LCD screen, laptop or flat surface), using the detachable clip or the integrated tripod thread. Getting started with video collaboration couldn't be easier. You can start the video conference as soon as you arrive in the meeting space.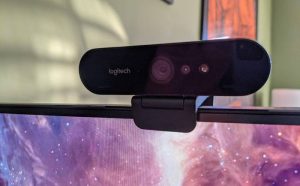 The Logitech webcam starts working immediately after it is connected to a USB port. The Brio webcam has a discreet and modern design. It is possible to fix the device to the wall thanks to its wall bracket ; its compact design minimizes the presence of unsightly cables in the meeting room.
Enjoy the world's most advanced professional quality webcam for video conferencing, broadcasting and video recording. Logitech BRIO is packed with features that make video quality impressive in any environment. The camera 4K ultra high resolution offers 5x digital zoom, high frame rate, excellent low light performance, HDR and RightLight ™ 3.
Capture every detail in 4K
Stream crystal clear video with exceptional resolution, frame rate, natural colors and every detail. Logitech BRIO offers 4K Ultra HD at 30 frames per second or 1080p with 30 or 60 super smooth frames per second for superbly clear, smooth and detailed recordings. With the 5x zoom, you can show all the details.
See Also : Review Logitech C922 Pro Webcam
Perfect picture in any light Now
you can use all video conferencing, streaming and video recording applications in all lighting conditions and always get the perfect result. In low or high light, Logitech BRIO with RightLight ™ 3 and High Dynamic Range (HDR) technology always adjusts the exposure.
Security with Ease of Use
BRIO is equipped with optical and infrared sensors for fast and secure facial recognition with Windows Hello. You don't have to enter a password for Windows 10 just look through the BRIO lens to sign in.
Ultra HD webcam for video conferencing, streaming and video recording.
Exceptional video quality with resolutions up to4K.
Perfect recordings in all lighting conditions with HDR and RightLight ™ 3.
Enhanced security with Windows Hello ™.
The new benchmark in webcams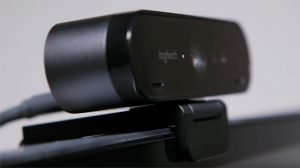 Technical characteristics :
Certified for Skype® for Business3, Windows, Mac and certified for Microsoft Windows Hello
Intel® Core 2 Duo processor (2.4 GHz)
2 GB of RAM minimum
Free hard drive space for video recording
USB 2.0 port (USB 3.0 compatible)
UVC compatible, ready to use
Compatible with Cortana
Cisco Jabber and WebEx compatible
Camera dimensions : 102 x 27 x 27 mm
Weight : 63 grams
Purchase Package
Webcam 1 x
USB 3.0 cable 1 x
Removable clip 1 x
Protective bag 1 x
User manual 1 x