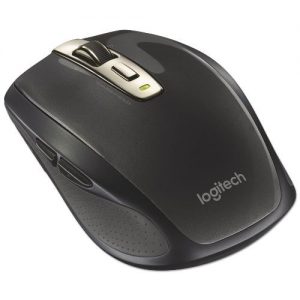 Logitech Marathon Mouse M705 review
TECHNICAL SHEET / CHARACTERISTICS
Sensor Laser
Wire / Charging base No no
Food 2 AA batteries
Max resolution 1000 dpi
Transmission speed 125 Hz
The M705 dangles four arguments to seduce:
Record autonomy : 3 years.
A neat look.
A freely selectable or toothed wheel.
A fairly compact shape, for a size halfway between classic mice and office mice.
The first three arguments speak to us. Yes, she is pretty yes  no longer changing your batteries, we love it; yes to the smart wheel once you've tasted it, it's hard to come back. Basically, the dial works normally, with very sharp notches a little too much for our taste. This wheel is therefore quite noisy.
Click once on the button behind the wheel becomes completely free, without any notch. If you give it a boost, it will keep running until it is exhausted. And it drives well! To quickly access the bottom of a very long page, it's really practical and pleasant.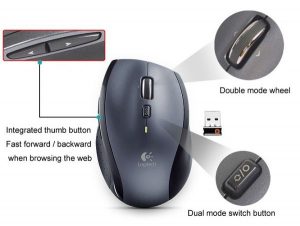 Afterwards, some will prefer one mode, others the second. This is precisely the advantage when several users are brought to use it a family typically. Each member can use it as it sees fit. My wife always uses it with guts, I always without. Everyone has their own religion.
See Also : Logitech Marathon Mouse M705 User Manual (Pdf)
For occasional use
Its shape on the other hand does not convince us at all. Quite high and noticeably longer (11 cm) than the so called notebook mice (approx. 9 cm long for their part), it is finally almost as bulky as a normal model. It is still shorter than conventional mice (13.5 cm for the Ikari Laser), which clearly invites a handling that is anything but ergonomic. The base of the wrist rests, fixed, on the desk; only the mouse moves. The gesture is natural but bad quite quickly pain appears.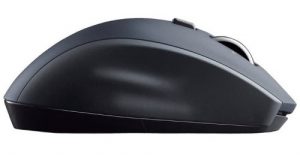 We therefore do not recommend this mouse for prolonged use. Out of conscience, we had all the same voluntarily installed it as the main mouse on a workstation used 8 hours a day it did not actually suit us that way. We may well know that it should not be held that way, over long periods of work, it is difficult not to give in to the easy way.
At first, we take great care not to lift the whole hand, then too quickly, by inattention, the wrist is posed. And we pay it cash at the end of the day. A word about the sensor : it's hyper classic laser, 125 Hz. No need for a mouse pad; on the other hand, other mice will better meet the expectations of gaming experts, or enthusiasts of extreme precision.
See Also : Logitech Marathon Mouse M705 software and drivers download
The G500 for example
2 AA batteries = 3 years of autonomyThis is the most obvious point of the mouse: you will almost never change its batteries. Is it delusional as an advertisement? We cannot say: "we tested, it takes three years". Nevertheless, the promise is not impossible to keep. Logitech has really made progress in its mice in this area. Experience has shown us that, as much their rechargeable models have to return often to their base (which can be annoying, moreover), their battery powered mice are indeed quite autonomous.
See also : Review of logitech g600 mouse gaming
STRONG POINTS
Selectable wheel with or without notch
3 years of autonomy!
2 buttons under the thumb
Nice finish
Micro USB connector that does not protrude
WEAK POINTS
Not ambidextrous (even if it cannot be used with the left hand)
Strange format: too short to be comfortable, too long to be truly mobile
Fixed sensor sensitivity
CONCLUSION
The rating is hard in terms of its qualities but our experience with it was too painful. Unless you have a small hand?