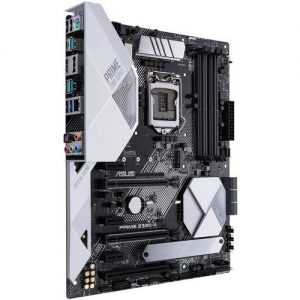 THE ASUS ENTRY-LEVEL Z390, A GOOD DEAL?
If the Z390 chipset was originally designed for high-end motherboards, manufacturers have not hesitated to make versions at a lower price to make the latest mount from Intel accessible. Often reduced in terms of functionality, these models nevertheless provide access to the flagship of Intel processors and the latest innovations from the foundry.
Today we will therefore talk about the ASUS Prime Z390-A, a model considered the average of the Z390 family of the Taiwanese manufacturer. Overview of the beast!
Component Quality
As we can see we have a black PCB poor in components, admittedly leaving some space but giving the feeling of a board made on the cheap. The card is however well supplied on the cooling side for the range with thin raw aluminum radiators but which include all the components.
We have 4 slots for 4 DDR4 modules, 1 PCIe x16 3.0 ports, 1 PCIe x8 3.0 (shared with x16), one PCIe x4 3.0 (shared with an M.2 slot) and 3 PCIe x1 3.0 ports. This does not change from the Z370 chipset, the differences being made only on the USB ports and the presence of an additional M.2 port.
See Also : Asus ROG Strix B450 Software Update
Sound Quality
On the audio side, no randomly named chip this time, ASUS does not hide the use of a Realtek ACL1220 audio processing unit without helping it. As the audio components can drive up the price quickly, the manufacturer preferred not to abuse it. No separate amplifier, no dedicated DAC or high quality capacitor.
The circuit is minimalist and fully integrated, a risk for background noise but especially for stereo crosstalk.  This part is nevertheless well separated from the rest of the card, which should reduce noise on the signal.
Connectivity
To finish our in-depth search, we'll talk about connectivity. The rear facade is well equipped without exceeding the number of ports. We have 2 USB 2.0 ports, 2 USB 3.1 ports, 3 USB 3.1 Gen 2 Type-A ports, and one USB 3.1 Gen 2 Type-C port. Small note, the PS / 2 port for 2018 cards is still the limit of the task.
The internal connections are loaded, the list is extensive and long, but we saw a connector for a USB 3.1 Gen2 Type-C port and an aRGB connection. The card is not very bright, but the LEDs have a nice rendering with fairing white – which is lacking with the rather cheap plastic.
Last point, we only have 2 dedicated M.2 ports for storage, which makes sense for the standard ATX card in the Z390.
See Also : ASUS X570 Plus software
Software
LAN
Intel Gigabit Ethernet Driver V23.2.0.1006 for Windows 10 64-bit : File Here
Chipset
Intel Management Engine Interface V1952.14.0.1470(SW 2009.14.0.1496) : File Here
Audio Driver
Realtek Audio Driver V6.0.1.8627 for Windows 10 64-bit.(WHQL) : File Here 
VGA
Intel(R) Graphics Accelerator Driver V24.20.100.6291 for Windows 10 64-bit.(WHQL) : File Here
Utilities
SATA
Intel(R) Rapid Storage Technology Driver Software V17.2.0.1009 for Windows 10 64-bit.(WHQL) : File Here