Logitech G613 review
When you taste the joys of wireless, it's hard to go back to traditional peripherals. After gaming mice and headsets, it seems it's the turn of mechanical keyboards to finally cut the cord.
Recently unveiled at the PAX West conference, the Logitech G613 is indeed positioned as the very first wireless model truly adapted to gaming. What sound a small revolution in the sector?
Advertised as just as powerful as its wired counterparts. Logitech's new mechanical keyboard works without any cables and promises 18 months of battery life. Enough to enjoy excellent freedom of movement. Especially when paired with one of the wireless gaming mice presented in our selection .
Design And Ergonomics
Question look, the Logitech G613 is sober. The set is made of plastic, in black and gray tones. Allowing it to be discreetly integrated into a gaming or office oriented setup.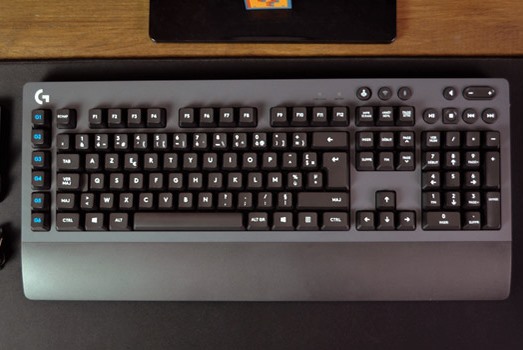 At first glance, besides its few additional keys, nothing really suggests that it is actually a keyboard especially designed for gamers.
Construction Logitech G613
The construction is similar to what we had discovered on the Logitech G213 , and this wireless model also takes the broad outline. The set is therefore rather imposing, with approximately 48 cm in length and 21.5 cm in width.
A template that will not necessarily be to everyone's taste, and that we owe to the presence of a wrist rest directly integrated into its frame.
If in practice it will provide additional comfort during use, we regret that it is still not possible to remove it.
Others Logitech Keyboard:
Ergonomics
The few criticisms that we may have made concerning the construction of the G213 also remain present, with a structure that may be a little too flexible for our taste, especially on its upper part.
The set has beautiful finishes, but obviously does not appear as robust as a SteelSeries Apex M750 or a HyperX Alloy Elite FPS.
Additional Keys Logitech G613
On the left of the keyboard, the G613 includes 6 additional keys named G1 to G6. You can come and assign the actions of your choice (or macros) via the Logitech software that we present to you a little below.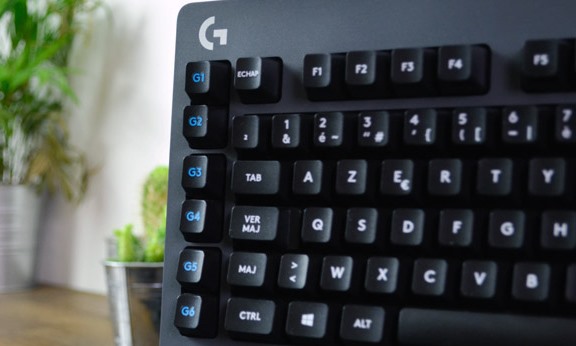 A real bonus for office automation and certain games, such as MOBAs or MMOs. Where you can take advantage of additional shortcuts to facilitate access to your various skills.
Obviously, these additional keys will not be to everyone's liking there again. And fans of keyboards simplified to the maximum will have to be content with them, or wait while waiting for the announcement of other wireless mechanical keyboards.
A versatile wireless connection
The wireless connection of the G613 is made in a few seconds, and you can choose between LightSpeed connectivity (via the USB dongle) and a more traditional Bluetooth connection.
It is even possible to combine the two and switch between them at any time via the dedicated keys on the keyboard.
In practice, we will obviously opt for the LightSpeed connection when the keyboard is used for gaming. since this technology will allow a response rate of 1 ms. Enough to enjoy your games without the slightest latency.
Bluetooth Connection
The Bluetooth connection can in turn be used to connect the keyboard to a laptop, tablet or even a smartphone. We then better understand the presence of a dock allowing you to drop off your mobile phone. Since it will become possible to answer your SMS or write an e-mail on your smartphone from the Logitech G613.
Support Software / Driver Logitech
The G613 is compatible with the software included with most Logitech gaming peripherals. If you already have it, you just need to update it for the brand's new wireless keyboard to be automatically detected.
From the tool, it will be possible to create different profiles according to its games and applications. For each profile, we can then assign specific commands to keys G1 to G6.
Note that unlike some competitors, it is not possible here to modify the mapping of the other keys of the G613.
Driver Software and manual guide
Software For Windows OS : LG Hub Installer
Software For Mac OS : LG Hub Installer
Manual Guide : Manual Guide
Performance Logitech G613
The G613 incorporates the Romer-G mechanical switches, already present on many models in the range. These are tactile switches approaching the experience offered by Cherry MX Brown. They have the following characteristics:
Activation force at 45 cN
Activation point at 1.5 mm
Durability 70 million keystrokes
In use, the performance is as convincing as on the brand's previous keyboards, with a typing that is both fast and responsive. Nothing to say, the Romer-G switches fulfill their role perfectly. And the choice will obviously have to be made according to your preferences.
Some gamers will favor linear switches, such as the Cherry MX RED from the SteelSeries Apex M500 , others the Razer Yellow silent switches discovered on the BlackWidow Chroma V2 .
Experience after use Logitech G613
On our side, and after ten days of using the Logitech G613 for both office and gaming, the results are positive. The keyboard offers a pleasant typing, and it is impossible for the naked eye to tell the difference between this wireless model and a corded model.
The responsiveness is exemplary, and no latency or signal loss was noticed during our tests.
The keyboard is perfectly at ease on a desk, but can also be used to enjoy your games from your stay. In this configuration, we would nevertheless recommend using the extension offered by Logitech in order to best position the USB dongle acting as a wireless receiver.
And if you see some latency appearing, chances are it is coming from your TV rather than the Logitech G613.
Conclusion
For a first in the world of wireless mechanical keyboards, the Logitech G613 is doing it with honors. Versatile and easy to use, it allows you to enjoy your games without the slightest cable. And we must admit that we have been waiting for this for a long time!
While some players may regret a somewhat basic construction compared to the best gaming keyboards on the market. The G613 is nonetheless efficient and effective in all situations.
The keyboard does exactly what is expected of it, and portends great things in the months to come. While waiting for the response from the competition, we can only recommend it! As a reminder