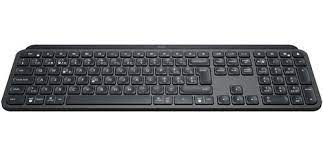 MX Keyboard Logitech Best Value
Logitech offers no less than twenty keyboards and it is not always easy to navigate when you want to equip yourself, especially since the prices vary from 17 to 199 € on the manufacturer's website.
For us, the MX Keys is the best quality / price ratio of the brand. It is certainly in the upper range of the prices indicated (around 100 €), but it remains one of the stars of office keyboards, all manufacturers combined.
It is a backlit and wireless keyboard with an autonomy of about 10 days (using it 8 hours per day). It offers excellent build quality and a pleasant and quiet typing. It is a compact and versatile keyboard since it can be associated with three devices. The screen printing of Windows and Mac keys, however, can make them difficult to read at first. Note that a "Plus" version provides it with a wrist rest for around twenty euros extra.
See Also :
Its advantages
Build quality
Automatic backlighting
Complete and wireless, but compact
Pleasant and silent strike
Good battery life for a backlit wireless keyboard
Connect to three devices at the same time via Bluetooth and Unifying USB dongle
What might hold you back
Lots of silkscreened characters on some keys
Keyboard inclination imposed
As an alternative
If you are working on a Mac, there is a specific version of MX Keys that has the appropriate keys. If you prefer a slightly cheaper model, the K800 from the same manufacturer is also a good choice. It is also wireless, backlit, and has the advantage of having an integrated palm rest.
Logitech G Hub